We're pleased to offer the following services in our Palm Beach Veterinary Clinic:
Our appointment book is computerized which allows us to efficiently make appointments for you and your pet. Our receptionists and team will attempt to accommodate all requests to the best of our ability. Emergencies are accepted anytime our clinic is open. If you feel you have an emergency with your pet, please call us or come to the hospital immediately. If possible it is best to call before coming in so that a staff member can advise you on your particular emergency. Some people find dropping off their pet for services to be more convenient; we're happy to schedule this as well.
With in house radiology capability, we are able to X-ray everything from chest and abdominal cavities, to the extremities, down to the tiniest toe! Our doctors are well trained in reading radiographs to make the diagnosis, but won't hesitate to send the images out to a board certified radiologist if there is any doubt. We put our patients care first.
Ultrasound is just one more of our high tech capabilities at Island Animal Hospital. With our advanced ultrasound machine, we are able to image the organs in the abdominal cavity and even the beating heart in real time. Tumors, bladder stones, lesions in the liver and spleen, as well as abnormalities in kidneys, the GI tract and other organs are just some of the issues we can see. A comprehensive study of the heart (called an echocardiogram) is often useful, complete with online consultation with a cardiologist, for many of our patients with heart murmurs; this allows us to diagnose and monitor heart problems early and atraumatically, leading to better outcomes and longevity.
As general practitioners, we focus on maintaining your pets health and preventing illness before it starts. With routine physical exams, vaccinations and/or titer assessment tailored to your pets individual needs, appropriate nutrition and weight management, routine bloodwork and screening tests, and appropriate dental care, we are able to help your pet maintain a long healthy active lifestyle. Treating your pet as an individual, with unique, individual needs, is just part of being the family doctor.
Skin problems are very common in our pets in south Florida. Believe us, we have pets ourselves! Whether it's routine flea and tick control, dry or oily skin, thyroid or other hormone abnormalities, or the far too common allergies, we are experienced and thorough in our abilities to diagnose and treat skin problems of all kinds. Newer treatment options are available and our doctors stay up to date on what is safe and effective for your pet. Topical therapies, therapeutic shampoos, injectable and oral medications, allergy testing and desensitization and hypoallergenic diets are just some of the tools we have to help make your pet more comfortable.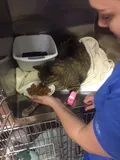 All the newest technology and medications don't matter much to the scared or painful patient that doesn't understand why they have to be here. Our compassionate, caring staff goes out of its way to make sure that reassuring cuddles, calming voices and extra attention are included as part of the treatment plan. We treat your pets the way we'd want our own to be treated.
We have a veterinarian and personnel on duty 5 days a week who are trained and equipped to handle any urgent care your pet has. Usually an emergency team consists of at least one veterinarian and several technicians working together to save a pet's life. Emergencies can be things such a snail bait poisoning, hit by car, and chocolate ingestion. If you ever feel that your pet needs emergency treatment do not hesitate to call or come in immediately. If possible it is best to call before coming in so that a team member can advise you on your particular emergency.
We are also available for urgent care when the condition is not life-threatening, but you feel your pet needs to be seen before you are able to get an appointment. Our veterinarians will work to "squeeze" you in between scheduled appointments. When you arrive, our receptionists will be able to give you an estimate on how long you may have to wait in order to be seen.
After hours emergency care is available through our answering service. Just call our regular office number, and they will direct you from there. There are also a couple excellent 24 hour emergency clinics within a short drive, that are fully staffed and operational throughout the night.
Because we have a diverse group of veterinarians practice at Island Animal Hospital, we can care for many types of pets:
Dogs
Cats
Rabbits*
Pocket Pets*
*Select veterinarians only. Call us for more information.
Island Animal Hospital accepts payment via cash, check, CareCredit, American Express, Discover, MasterCard, or Visa. So that we can continue to provide you high quality service utilizing the best medical technologies, we request that payment be made at the time services are rendered.
We provide estimates for all surgeries and hospitalizations. If you have not received an estimate, you are welcome to request one at any time for your expected charges.